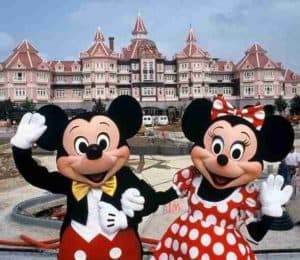 Disneyland Paris Airport Transfer and Taxi.
You have at least three transfer options to get from Charles de Gaulle (CDG) airport to Disneyland. You can go by train, shuttle, or taxi. The cheapest option for a Paris Disney transfer is obviously by train, which may cost you approximately €17, and the journey is 45 minutes long. The quickest CDG airport to Disneyland transfer is by taxi, but it's also the most expensive. Taking a shuttle bus from Charles de Gaulle to Disneyland is another cheap option. The Magical Shuttle bus will cost you €23, €10 for your kids, and is free for all children below the age of two years. Read on to find out more about Disneyland Paris transfer options.
CDG Airport to Disneyland Taxi
Taking the train from its own special area in the CDG airport is one of the most popular Paris to Disney transfer options. Add the 45 minute journey period to the 30 to 50 minutes waiting time, and it'll take you 1hr 15 mins from CDG to Disneyland. And they don't even run 24/7. The trip duration for the shuttle bus is 90 minutes and has a waiting time of 20 to 40 minutes.
Ultimately, traveling by Disneyland Paris taxi is the quickest, easiest, and most convenient way to go from Charles de Gaulle. It is also safe and secure. The journey is about 40 minutes, and the taxis drop passengers right at the gates. There's no flat rate as the cost depends on the distance displayed on the taxi meter. The average price from CDG to Disneyland is €76 during the day. It will cost you an estimated €90 at night. Note that it may cost you €4 per person for supplementary charges if there are more than four passengers. In addition to being the quickest route, a Disneyland Paris taxi can be canceled if the need arises, and there are no hidden charges.
Traveling from Charles de Gaulle (CDG) to Disneyland
Get to know the details of Charles de Gaulle airport to Disneyland by taxi, including fares. Find out about CDG to Disneyland by train and shuttle bus.